Welcome Our New Team Member, Amy Emley!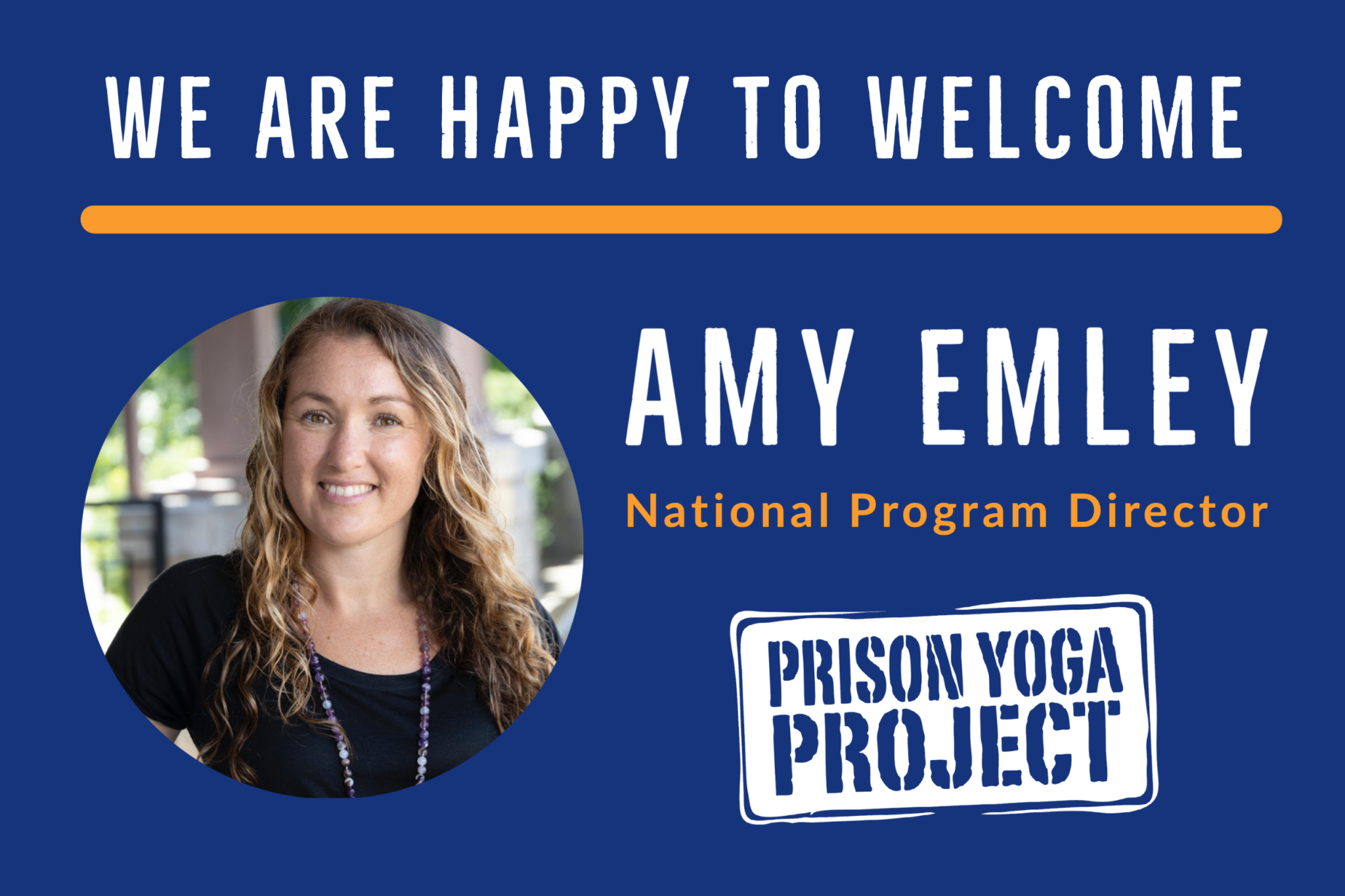 Prison Yoga Project is pleased to introduce you to the newest member of our National Team, National Program Director Amy Emley! Read on to learn more.

What drew you to working with Prison Yoga Project?
When I first encountered PYP, it reignited the passion that set me out on this path originally. In 2013, my friend Bird invited me to teach yoga at a youth facility. That's where I found my purpose. PYP reminded me of that purpose, which is to assist in making healing-centered practices available to all and especially to those with limited access. I feel incredibly grateful to walk alongside our staff and faculty in fulfilling the mission of the organization.

What's the driving force behind your personal connection to PYP's mission?
While I haven't personally experienced incarceration or have incarcerated loved ones, I do have family members who have been impacted by the criminal justice system. The fact that they were able to avoid incarceration due to their privilege is not lost on me. As someone who has navigated their own journey of healing from trauma and addiction, I understand the complex interplay between these issues and the criminal justice system. Unfortunately, individuals who lack financial means or come from marginalized communities are often disproportionately affected by incarceration and law enforcement. This is why our work at PYP is so important – we have the power to prevent recidivism and promote healing and rehabilitation for all.

Tell us about your yoga background. When and why did you start practicing and teaching?
I began teaching in 2010. Yoga was a significant catalyst for change in my life. Yoga and meditation brought me to my journey of healing. I began my recovery journey from substance use disorder (SUD) and traumas in February 2013. I credit this journey to the practices, the tools that keep me here.
I've taught Bikram, Baptiste, power yoga, and trauma-informed yoga, and most recently, I completed a 500-hour training in Yoga Therapy program recognized by the International Association of Yoga Therapy (IAYT). My early journey may have been initiated by the physical pull of the practice, which later led me to great healing. (I'm not super proud to have been connected to Bikram or Baptiste. That was before I knew more or better.)

What unique talents and experiences do you bring to the table that will help drive PYP's mission to success?
My passion lies in laying strong foundations, establishing effective processes, designing organizational structures, and creating strategic plans that will ensure sustainability and maintain the unique and special culture of our organization. Over the past decade, I have honed my skills in managing and scaling organizations and non-profits, which has provided me with invaluable knowledge that I can leverage to add value to PYP.
What excites me most about my work is the people aspect. I thrive on building strong relationships and connecting with individuals on a personal level. I believe that the key to a successful organization lies in fostering an environment where people feel empowered to grow and thrive in their roles. By aligning the needs of the business with the needs of our people, we can create a culture that supports both individual and organizational growth.
In my role, I am constantly looking for ways to empower my team and uplift their work. I believe that these structures and intentions are crucial frameworks for any successful organization. Ultimately, I am committed to supporting and connecting with others, as I believe that this is the fundamental purpose of our world.

What was your background in developing non-profits prior to working with PYP?
In 2013 I started a non-profit, Root to Rise. We brought yoga and mindfulness programs to schools, mental health facilities, treatment (all levels of care), hospital psych units, juvenile detention centers (JDCs), women's transitional housing, and more. We also had a community yoga studio and trauma informed training. I ran the NPO until January 2019.
In 2018, I formed a relationship with the Phoenix (PHX). We began to discuss what it might look like for PHX to join forces with Root to Rise. They wanted to build out trauma informed yoga programs, and we wanted to sustain and broaden our reach.
The following January, I was hired as the Phoenix's New Jersey Program Manager and dissolved Root to Rise. PHX absorbed Root to Rise's contracts, staff, studio, and such. In January 2020, I was promoted to Senior Program Manager and began overseeing the mid-Atlantic region of the US for PHX. I was soon promoted to Program Director, which meant overseeing the entire eastern region—from Maine to Florida. During that time, PHX grew in both staff and impact. In addition, two colleagues and I launched PHX's virtual programming in 2020.

What is your vision for the future of PYP, and what steps do you believe are necessary to achieve it?
I envision a future where PYP's programs and facilitators are present in the majority of prisons and jails, providing individuals with the tools and support they need to heal and transform their lives. To make this vision a reality, we will need the generous support of donors to ensure that our programs are sustainable and fully funded. Additionally, we need institutional support to help shift the stigma surrounding incarceration and to humanize those who are incarcerated. Our mission at PYP is grounded in the belief that every individual has inherent worth and dignity, and our programs provide an opportunity for healing and transformation.
In order to reach our goals, we must continue to advocate for the importance of our work and its impact on individuals and communities. We must also prioritize building partnerships with like-minded organizations and individuals who share our vision and are committed to creating lasting change. By working together, we can create a future where every person has access to the healing and transformative power of yoga and mindfulness, regardless of their circumstances.
Visit the following links to learn more about PYP's trainings, how to become a facilitator, and how to donate.
Content contributed by Kat Rebar and Blaire Embrey